Each advertising campaign is a moment of reflection for us on what we do and what we want to communicate to the world.
We aim to capture all our energy and the movement that inspires us, pushing us forward, in an image.
Each image reflects our vision of the present and our commitment to the future.  The campaigns carried out so far reflect our evolution over time as well as the essence of our values.
2012 - The first campaign
Three years after the creation of our company, our e-commerce is in full activity, we want to reach specialised magazines and make ourselves known outside the digital world.
For the first advertising campaign we involve our Italian collaborators with the aim of creating a fresh image, representing the wide range of products offered to our customers, thus is born the first official photograph of G-Silver, a cascade of beads, pendants , clasps, finished jewellery and chains that, like a stream of creative thoughts and inspirations, floats 0n the forefront of Frida, our model for the occasion.
To create this image, each element is photographed individually and meticulously positioned, in order to set up a living and harmonious composition.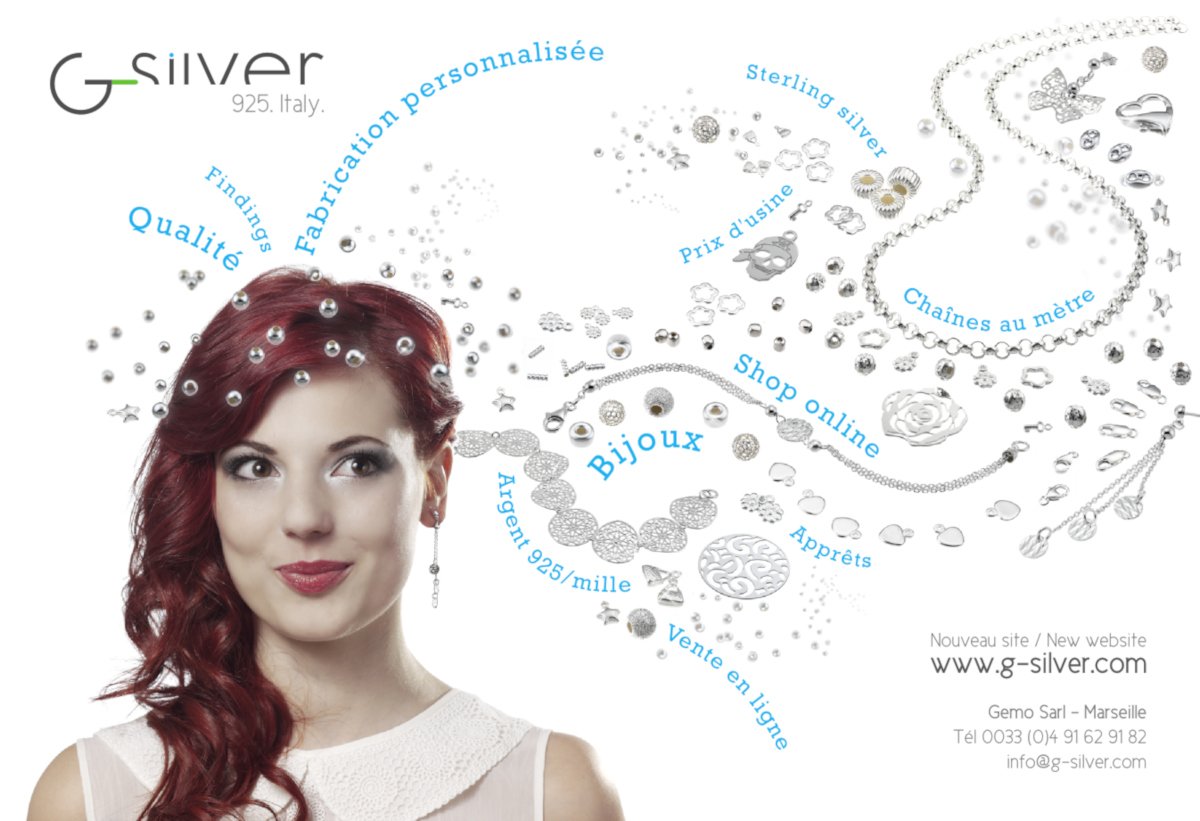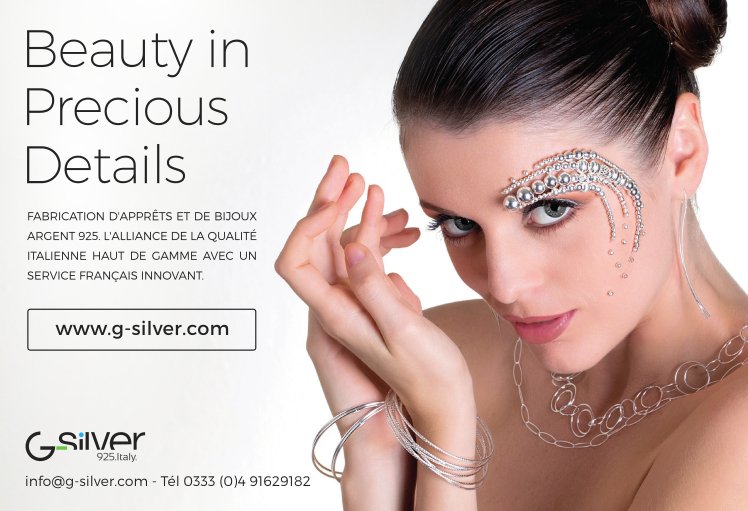 2014 - Beauty in precious details
In 2014, we believe it is time to work on a new campaign and create an image that represents what we have become and what we are committed to being.
We want to convey the care for the quality we ourselves put into our work, as well as the attention to every detail that our customers put into their own creations.
Our world, and that of those who choose our products, is made of a beauty that radiates in every little nuance, every form and every detail.
From the collaboration with a young mosaicist is born the motif that frames the face of Angelica, model of this campaign. the decoration is made by applying the beads from our catalogue, one by one, on her face.
2018 - Shaping inspiration
For our 2018 campaign we imagine a cosmetic that expresses both precision and refinement. At the core of the new concept lies the union of the creative gesture with the mastered use of technique. It's the balance between imagination and method.
Colour is used as an element with high visual impact and applied in regular and precise forms, as ideas that take shape through the care of every detail.
Rectangular shapes are drawn on our model Anca's face.  Our colours and products are photographed in meticulously made compositions with silver elements that stand out between natural shapes and coloured bands.
A whole new world is in every image, for us and everyone who chooses us every day.